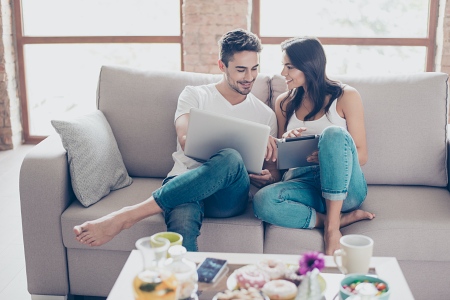 The coronavirus pandemic, in spite of all its setbacks, gives you time to take advantage of a wealth of opportunities for earning money from home.
Maybe this is an opportunity for you to modify your career: to add on a side hustle, or change careers entirely. Maybe you even want to work from home after the pandemic ends. Whatever the reason, read on for advice on how to supplement – or replace – your income with online work.
1. Sell your photos
Are you a would-be photographer? You might be able to make a few bucks off of selling your photos to stock photography websites. Databases need a constant flow of new stock images to sell to designers, news organizations, or any company with a website. The best part of this is that you'll get some compensation every time your photo is sold, so you can continue to make money over an extended period of time.
2. Make how-to videos
YouTube is the one-stop-shop for how-to clips, DIY tutorials, and all manner of instructional video content. You can take advantage of this fruitful market by making your own videos on any subject you like, whether it be software or skateboarding. Monetize your business by adding a subscription fee for bonus content on your website, or by applying for the YouTube Partner Program. Look at suggested phrases in YouTube's search bar to get ideas for video titles.
3. Teach English
Do you speak English as a native? It doesn't even matter where you live – you already have the first qualification for one of education's most in-demand jobs. Look at GoOverseas.com for opportunities, and apply to teach English online to Chinese students with TeachAway, Taiwanese students with iTutorGroup, and Korean students with PAGODA.
4. Pursue freelance proofreading
Proofreading translations is another great way to make some money. Agencies usually pay one-fifth the price of a translated document - If the translation price of a five-page document is $75, then the proofing price will be about $19.
5. Become a transcriber
Do you type at a good word-per-minute rate? You could become a transcriber. Transcribers listen to audio files, write out the words spoken, and get paid by the audio hour (note that an average transcriber will transcribe one hour of audio in four hours). Try Rev.com for jobs.
6. Make a blog
Do you have a specialized area of expertise? Have you devoted many hours to researching a topic like hiking, biking, or budget travel? Try making a blog to share your best advice for your subject field. Wix, Weebly, Wordpress, and Squarespace allow you to host blogs with affordable monthly subscriptions. To monetize your blog, you can put ads on it or promote affiliate products.
7. Become an audiobook narrator
Sites like Audible have become only more popular in recent years, which makes audiobook narration a lucrative job.
8. Translate or interpret
Google Translate won't be taking the jobs of translators in the foreseeable future. There's a huge market for translators and interpreters, and you could be part of it provided that you're bilingual or even trilingual. Welocalize is one of the best resources for aspiring translators.
9. Tutor
Tutoring over video chat is a well-known method of making money online. You can communicate to clients in nearly every country in the world and impart your knowledge. With a discount for clients who promote your service via word-of-mouth, you'll be able to increase the number of clients coming your way and earn more. Tutors.com and Tutorme.com are two great resources for budding tutors.